Regular price
Sale price
449,00€
Unit price
per
Sale
Sold out
Due to strong demand, there may be a delay in shipping.

Exclusive Zojirushi seller for Spain and Portugal.

Free Shipping when over €50
DESCRIPTION
MORE THAN 100 YEARS CREATING "QUALITY OF LIFE" : Zojirushi manufactures its products in its own factories with exclusive technologies and patents, it does not manufacture for other brands.
RICE COOKER: This rice cooker comes configured with the exclusive

Umami® Micom

technology that soaks and steams rice for longer to improve its flavor. Not only does it cook rice, you can also steam it or slow cook it.
MENU SETTINGS: Cooking white rice, umami, mixed, sushi/mild, jasmine, porridge, rice soup, brown, GABA brown, quick white rice, quick jasmine, steamed and slow cooking.
MICON TECHNOLOGY: With advanced microcomputerized fuzzy logic technology.
STEAMED: With practical steam function and BPA-free cooking basket accessory.
UMAMI:

This exclusive setting from Zojirushi soaks and steams rice longer to extract all the flavor from the rice.

AUTOMATIC KEEP WARM FUNCTION: This function allows for keeping warm, extended keeping warm and reheating.
STAINLESS STEEL LID: This lid has an easy-to-clean clear coating.

TIMER: The timer has two settings to provide freshly cooked rice at the scheduled time.
ADVANCED SENSORS: The advanced sensors of this rice cooker allow you to independently adjust the cooking time, power and amount of water to allow each grain of rice to be at the desired doneness.
ACCESSORIES: Rice measuring cup, spatula, steam basket and spatula holder.
POWER SUPPLY: 220-240V
WARRANTY: 2 years warranty.
MANUAL : Manual in English.
ABILITY:

NL-GAC10

Up to 5.5 cups / 1 L

From 1 to 5 people

NL-GAC18

Up to 10 cups

From 1 to 10 people

POWER:

| | |
| --- | --- |
| NL-GAC10 | 610W |
| NL-GAC18 | 820W |

DIMENSIONS:

| | |
| --- | --- |
| NL-GAC10 | 38 x 25.5 x 22cm |
| NL-GAC18 | 40.5 x 28 x 25.5cm |
View full details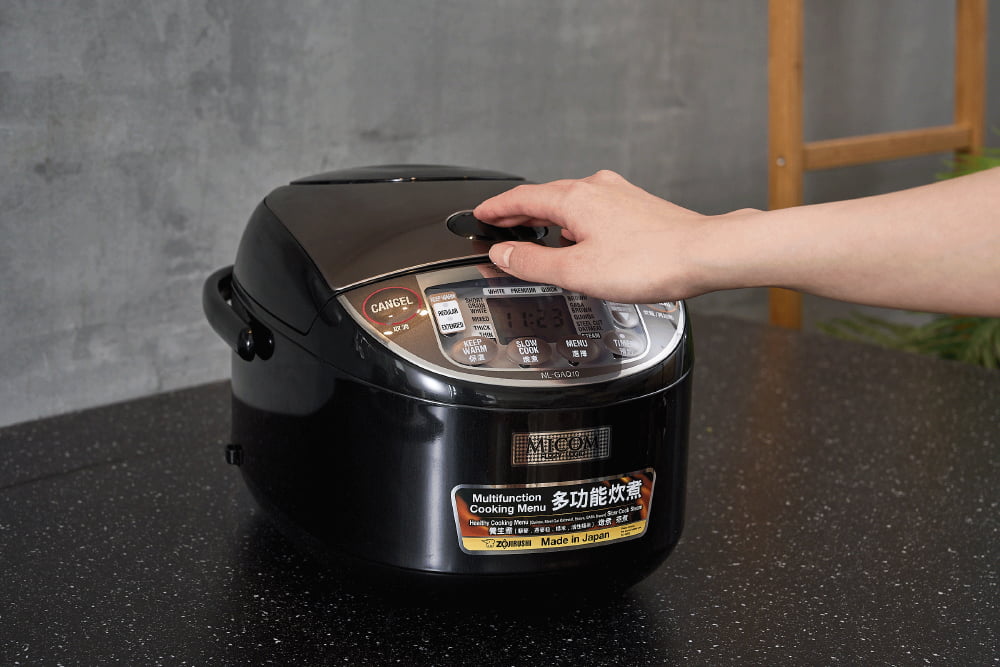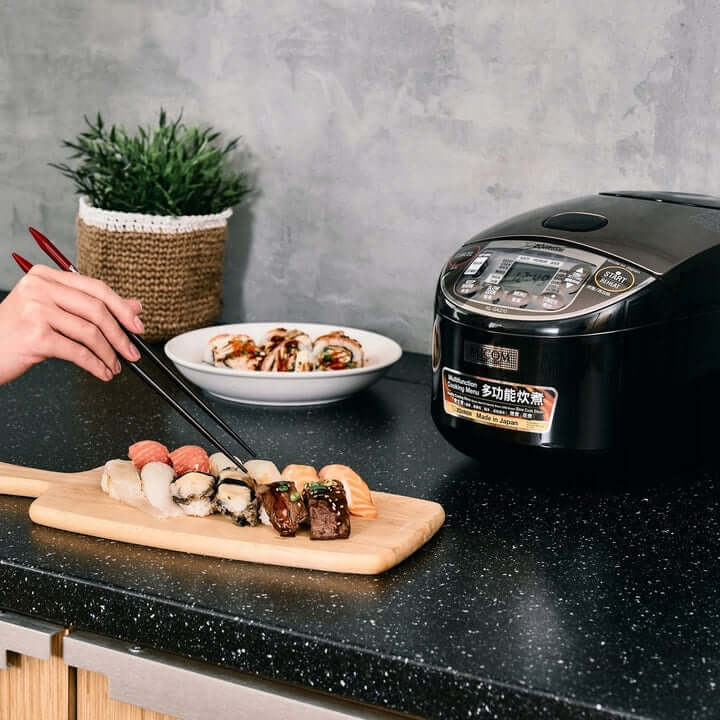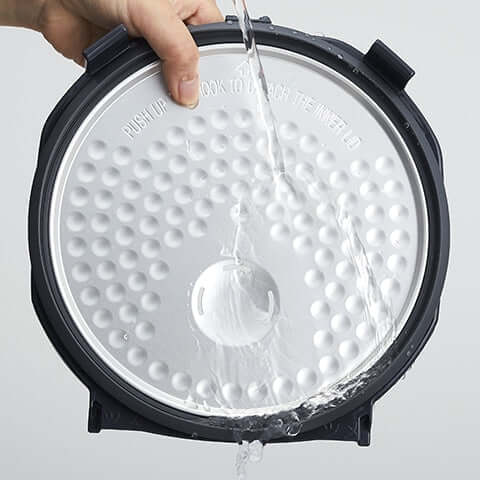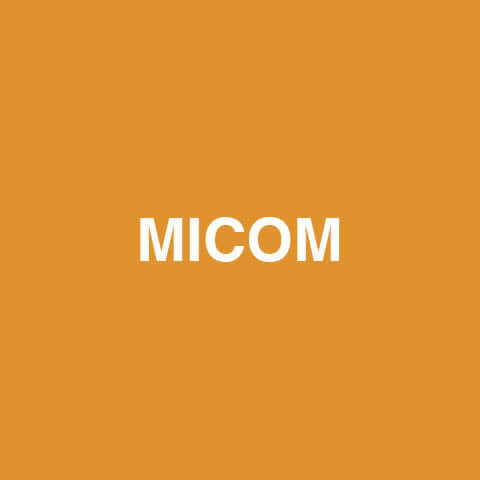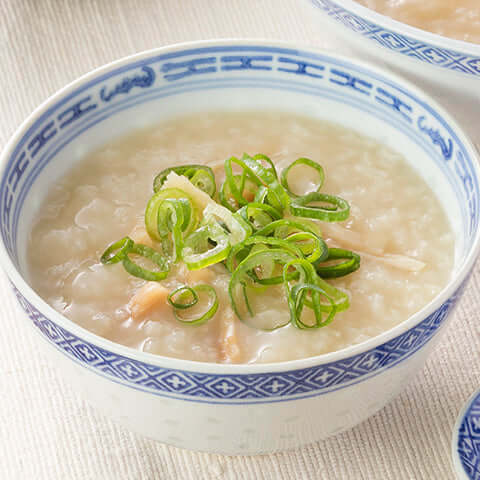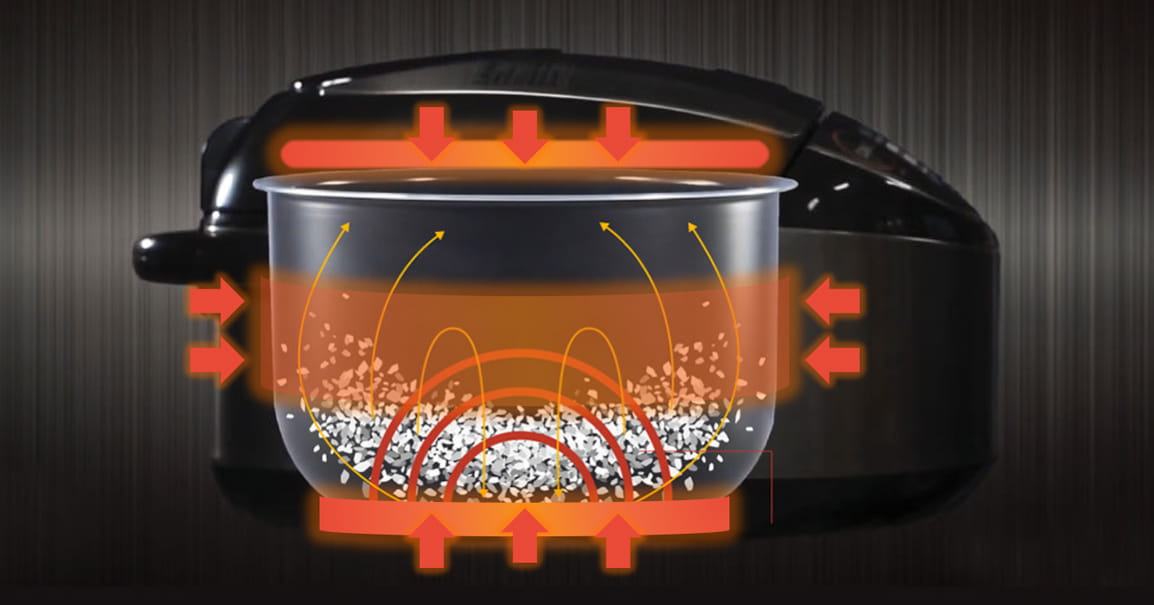 Characteristics
A chip automatically adjusts the temperature and cooking time.

With black non-stick coating and easy to clean.

Easy-to-read LCD panel with clock and timer functions

Removable and easy to clean inner lid.
BPA-Free Steamer Basket, Rice Measuring Cup, Spatula and Spatula Holder Accessories

CONGEE special menu

Slow cooking function

Removable and easy to clean inner lid.
Origin

More than 100 years of history.

In 1918 they created a vacuum-insulated glass thermos for domestic use.

A true innovation for the time.

A history full of success and international recognition for its thermoses, bread makers, dispensers, coffee makers and rice cookers begins.

Products of excellent quality, their rice cookers being considered the "Rolls Royce" of rice cookers.

History

These are some milestones in its history.

In 1964 he developed the automation of vacuum glass thermoses.

In 1973 they introduced the first "Air Pot" push-button type water dispenser.

In 1974 they developed and launched the first rice cooker with optimal temperature control.

In 1981 they launched double-walled vacuum bottles with a unique and patented manufacturing process.

And so on, they have been developing solutions to make our lives easier.

In 2018 they managed to create a new computerized heating method that ensures that each grain of rice is at its optimal cooking point.

Inspirations from everyday life.

This is the "leitmotif" of Zojirushi. Create high-quality designs and products to inspire chefs around the world to innovate.

At the core of Zojirushi's philosophy is cutting-edge technology to create efficient and easy-to-use products, and this is what sets it apart from its competitors.

70 countries in the world already enjoy the excellence of Zojirushi products.